Okay, so my friend over at My So-Called Chaos introduced me and the rest of her readers to Smashing last week. She posted the following video and that's what hooked me (at first, I was like "Oh. Great. It's like Pinterest. Only there's more work involved. It's scrapbooking Pinterest." but I was WRONG!)
I fell in love. I have to do this. I tell you, I would have LOVED to do this in high school! I have little bits and pieces of my life that really have no home. They can be found in random drawers, boxes, and floating around here and there in various spaces. The de-junker in me refuses to hang on to these things because...just...BECAUSE! It serves no purpose and that means it's junk...or trash....right? Not always so. There are times when I have a ticket or a snippet or something that is attached to a memory that I would like to keep...but where?
So I'm doing it! Angie is co-hosting a Summer Smashing Party & Giveaway and that is really what's kicking my butt into gear. I'm going to the craft store today to get some Smashing stuff and I'm so stoked. From what I can tell, there are all kinds of fun things to help you smash in style. I can't wait to see what I find!
Feel free to join in on the fun!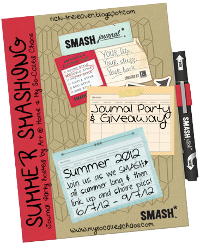 ...and here's to hoping this is a good distraction for me...
P.S. I went and got my Smash Journal today. It's adorable. I was trying to pick between a red one and a sort of seafoam one, so I let Gabe pick. He picked the seafoam. When I got home, I realized that some of the journals have a sort of theme. The one I got is "baby style"--Ha! How fitting for my life right now. Total accident, but I already love it!